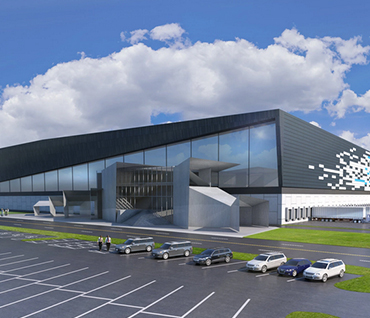 Airports across the United States are devoting more space to freight shipments as online shopping surges in the pandemic.
HEBRON, Ky. — Since the pandemic started nearly a year ago, 15,000 fewer people arrive and depart daily from the Cincinnati/Northern Kentucky International Airport, known as CVG. Yet the 60 percent drop in passenger traffic is not so apparent on the airport's four runways, which are handling a record amount of air cargo — nearly 4,000 tons a day.
Ranked by the Federal Aviation Administration as the nation's sixth-largest cargo airport, CVG's standing is about to climb higher.
Amazon Air, the e-commerce giant's five-year-old cargo airline, is completing a 798,000-square-foot sorting center, seven-level parking structure and acres of freshly poured concrete to accommodate 20 aircraft. The new facility, under construction on a 640-acre site along the airport's southern boundary, is scheduled to open in the fall. It represents about a third of the $1.5 billion, three-million-square-foot air cargo hub Amazon is committed to building at CVG.
"This hub is going to let us to get packages to customers faster," Jeff Bezos, the Amazon founder and chief executive, said during the groundbreaking ceremony at CVG in May 2019. "That's a big deal."
By far the largest air cargo construction project in the airport's 74-year history, the mile-long facility will be the center of Amazon Air's national air transport network, which now has more than 70 aircraft and hundreds of daily flights to 35 other cities in the United States. Last week, Amazon announced the purchase of 11 Boeing 767-300 aircraft as part of an effort to expand its fleet.
The new building is a signal measure of Amazon's influence as the largest online retailer and its dedication to fast delivery. Both have helped generate a wave of air cargo construction at airports across the United States.
FedEx, the world's largest air cargo carrier, handled an average of 6.2 million air packages a day last year, a 48 percent increase over 2016. The company just opened a $290 million, 51-acre project at the Ontario International Airport in Southern California. It features a 251,000-square-foot sorting facility, spacious concrete ramps, nine gates, 18 truck loading docks and the capacity to handle 12,000 packages an hour.
UPS and Amazon also operate out of older buildings at the airport, which is handling 30 percent more cargo than it did in 2019. "There is a lot of consumer behavior that permanently changed in 2020," said Mark A. Thorpe, the airport's chief executive. "We're seeing levels of cargo today that were expected in 2028."
Ted Stevens Anchorage International Airport, the second-largest air cargo airport in the United States after Memphis International Airport, is planning for $500 million in new freight and package handling and sorting facilities. The demand for more space by the airport's cargo companies — among them Alaska Cargo & Cold Storage, 6A Aviation, FedEx, UPS and Amazon — is soaring. As of the end of September 2020, the airport reported that 2.3 million tons of cargo had touched down in Alaska, a 9 percent increase over the same nine-month period in 2019.
At Chicago Rockford International, plans are underway to build a 90,000-square-foot cargo facility. As soon as it opens in the spring, the airport will start another 100,000-square-foot cargo project for DB Schenker, Emery Air and Senator International. Last year, Rockford completed a $22.3 million, 192,000-square-foot facility for Amazon, along with $14 million in concrete aprons sturdy enough for Boeing 747 aircraft.
"The traffic in cargo is responsible for all the new demand at airports now," said Rex J. Edwards, an industry analyst and vice president of the Campbell-Hill Aviation Group, a Northern Virginia consulting firm. "The cargo carriers want more airport space. They need room to park planes and facilities that meet next-day delivery requirements. That is the evolution of the business now."
Before the pandemic, e-commerce sales were growing more than 10 percent annually, pushing total air cargo to 12 million tons last year, according to the Bureau of Transportation Statistics, a unit of the Transportation Department. Federal analysts project that air cargo will reach 45 million tons annually by midcentury. But executives at big air shippers, airports and airplane manufacturers say that the pandemic altered online commerce so substantially that the industry will hit that mark a decade sooner.
Three years ago, Philadelphia International Airport paid $54.5 million for 135 undeveloped acres next to the airfield. The airport is now developing a master plan for the ground that includes 1.5 million square feet of cargo handling facilities. "We knew, prepandemic, that cargo was only going to increase," said Stephanie Wear, the airport's director of air service development and cargo services.
For the time being, Amazon is the largest influence in new airport cargo construction.
To serve the 14 immense fulfillment centers it built in California near San Bernardino and Riverside, Amazon established a western hub at San Bernardino International Airport. This month, it is finishing a 658,000-square-foot handling and sorting center and two smaller 25,000-square-foot buildings at the 79-year-old airport, which started as a World War II military airfield. The $300 million project includes parking and gates to handle 14 aircraft and 26 flights daily, said Mark Gibbs, the airport's director of aviation.
No airport is receiving more attention from Amazon Air than Cincinnati/Northern Kentucky. The company liked what it heard from airport executives, who spent the last decade diversifying CVG's revenue and recovering from a fiscal catastrophe by recruiting air carriers and related companies to its 7,700-acre airport.
In 2008, in the midst of a deep recession, Delta Air Lines unexpectedly shut its regional hub at CVG, halting more than 500 flights a day, closing terminals and throwing the airport into a panic. Executives countered by marketing CVG's location, a half-day drive or a short flight from most of the major metropolitan regions in the East, Midwest and South. CVG had plenty of space for development, and it is close to important interstate highways and to Cincinnati's renovated Ohio River shoreline and city center.
The German carrier DHL became interested straightaway and arrived in 2009; four years later, it completed its one-million-square-foot North American hub. Amazon arrived in 2017 and contracts for loading and sorting at the DHL facility. FedEx also operates out of the airport.
The air cargo activity generates its own momentum. Five years ago, Wayfair, the online décor and home furnishing company, completed a 900,000-square-foot logistics center at the airport. Last year, FEAM Aero, an aircraft maintenance company, opened a $19 million, 103,000-square-foot aircraft service hangar on an eight-acre site.
Amazon Air's strategy for cargo routes and ground facilities differs substantially from that of other carriers. Its cargo is composed of goods sold on its own online market; its airport facilities are close to Amazon's network of fulfillment centers.
That formula fits Amazon's decision to settle at CVG, on the Kentucky side of the Ohio River across from Cincinnati. Since 2010, according to the company's data, Amazon has spent more than $15 billion in Kentucky, much of it on 10 fulfillment and sorting centers, two delivery stations, a customer service center and two Whole Foods Markets. The company says it employs 14,500 people in the state. Its air cargo hub will add 2,000 jobs.
The cargo strategy was essential to keeping CVG operating since March 2020, when the pandemic took hold, said Candace S. McGraw, CVG's chief executive, who led the work to recruit Amazon and the other carriers.
Air cargo grew 14 percent in 2020 at CVG and is expected to grow at least 10 percent more in 2021 and 2022, when Amazon's new facility is fully operational. Cargo now accounts for 75 percent of the more than $25 million in annual revenue from landing fees, the second-largest source of CVG's income after parking.
"We learned the lesson to diversity from Delta," Ms. McGraw said. "We're grateful for the cargo business."