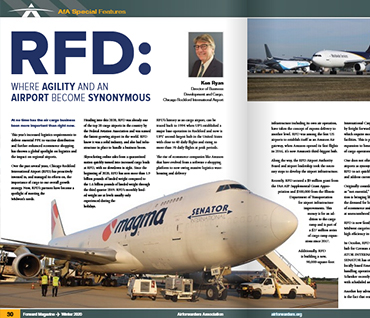 At no time has the air cargo business been more important than right now.
This year's increased logistics requirements to deliver essential PPE to vaccine distribution and further enhanced e-commerce shopping has thrown a global spotlight on logistics and the impact on regional airports.
Over the past several years, Chicago Rockford International (RFD) has proactively interested in, and managed its efforts on, the importance of cargo to our overall growth strategy. Now, RFD's partners have become a spotlight of meeting the Midwest's needs.
Heading into this 2020, RFD was already one of the top 20 cargo airports in the country by the Federal Aviation Association and was named the fastest-growing airport in the world. RFD knew it was a solid industry, and also had infrastructure in place to handle a business boom.
Skyrocketing online sales from a quarantined nation quickly turned into increased cargo loads at RFD' with no slowdown in sight. Since the beginning of 2020, RFD has seen more than 1.9 billion pounds of landed weight compared to the 1.6 billion pounds of landed weight through the third quarter 2019. RFD's monthly landed weight are at levels usually only experienced during the holiday.
RFD's history as an cargo airport, can be traced back to 1994 when UPS established a major base operation in Rockford and now is UPS' second-largest hub in the United States with close to 40 daily flights and rising to more than 70 daily flights at peak periods.
The rise of e-commerce companies like Amazon that have evolved from a software e-shopping platform to now owing massive logistics ware-housing and delivery infrastructure including its own air operation, have taken the concept of express delivery to another level. RFD was among the first US airport to establish itself as an Amazon Air gateway, when Amazon opened its first flights in 2016, it's nowAmazon's third-biggest hub.
Along the way, the RFD Airport Authority Board and airport leadership took the necessary steps to develop the airport infrastructure.
Recently, RFD secured a $9 million grant rom the FAA AIP Supplemental Grant Appropriation and $500,000 from the Illinois Department of Transportation for airport infrastructure improvements. This money is for an addition to the cargo ramp and its part of a $27 million series of cargo ramp expansion since 2017.
Additionally, RFD is building a new, 90,000-square-foot International Cargo Facility, that will be used by freight forwarders and air cargo airlines which require modern airside cargo handling facilities. This is phase one, a three-phased expansion to benefit RFD's growing cargo list of cargo operators.
One does not often think of agility and airports as synonymous, but it is the ability for RFD to act quickly and decisively to anticipate and address current and future clients' need.
Originally considered by airfreight forwarders as "not essential," today's e-commerce revolution is bringing life into airports like RFD as the demand for logistics efficiency in respect of e-commerce and air cargo can only be met at unencumbered specialist air cargo airports.
RFD is now firmly accepted globally as a Midwest cargo/e_commerce hub, thanks to hight efficiency in the air and on the ground.
In October, RFD was named the Midwest hub for German air cargo forwarder SENATOR INTERNATIONAL. Additionally, SENTOR has officially contracted with locally based Emery Air, to oversee its cargo handling operations on the ground. DB Schenker recently joined the RFD family with scheduled services from Asia.
Another key advantage of airports like RFD, is the fact that real estate, both inside and outside the airport fence, are abundant, affordable and ripe for logistics development.
RFD also provides significant efficiencies to air operations. With direct approaches, wheels down to engines off in five minutes, no ground holding time, the fuel savings and Co2 savings are enormous. A typical hub airport has vectored approaches, considerable ground holding and taxing times. RFD has calculated the on a typical Boeing 747 freighter fuel savings of over 20 tonnes of CO2 per rotation.This is driving much more interest in RFD by freight forwarders and their clients who want to be as environmentally efficient as possible.
The reduction in wait time for both cargo airlines and for truckers carrying the products allows companies to get products on shelves faster to impact revenue—or, in the case of the 2020 pandemic, to impact our health/safety.
While we could not have anticipated an international virus would severely impacted our economies, healthcare systems and everyday life, RFD's foresight to continue to grow our cargo operations has been beneficial to individuals and companies. RFD continues to grow as the Midwest's hub for e-commerce freight by having the capacity to add flights and larger aircraft to bring supplies and materials to our region.