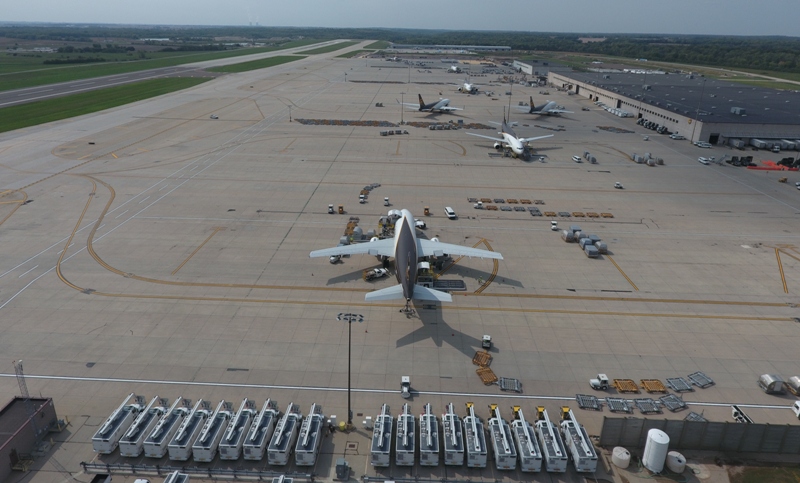 Chicago Rockford International Airport claims that a new study shows that it can slash emissions and pollution compared with larger passenger-orientated gateways.
Conducted by what Rockford describes as "an independent aviation and aircraft analysis company", the survey compared landing and takeoff cycle times at different airports.
It found that aircraft using the large passenger hubs took an average of 1 hour 46 minutes to complete a landing and takeoff cycle.
In comparison, the LTO cycle at Rockford was just over 16 minutes.
The study found that a typical Boeing 747 freighter operator running four times per week into Rockford throughout the year would save $8m in annual costs, emit 6,000 fewer tonnes of carbon dioxide and 15,000 fewer tonnes of NOx, burning 1,800 tonnes less fuel due to the reduction in flight cycle time.
Airlines saved up to $10,000 per rotation in fuel costs and between $7,000 and $12,500 per aircraft rotation, Rockford said.
The airport promotes itself as a cargo-friendly alternative to the established passenger gateways of the Midwest.
As well as being the 14th largest US gateway for air cargo, landing 3.4bn lbs in 2022, it is also home to the second largest UPS hub in North America and is an operating base for Amazon Air, the airfreight arm of the global online retailer.
Rockford's director of planning and operations, Zack Oakley, said: "The vision, planning, and execution developing Rockford has made us one of the most efficient and freighter friendly airports on the planet.
"That translates not only to a positive environmental impact due to our ability to immediately reduce carbon emissions, it also creates a positive financial impact due to reduced airport cost and significant time savings."
Oakley added: "A key part of our message to freighter aircraft operators and owners, aircraft charterers, freight forwarders and indeed shippers, has always been the case that RFD is far less congested than busier larger passenger hubs.
"The fact that we offer wheels down to engines off in five minutes or less and efficient approaches does translate into considerable cost savings and reductions in emissions.
"By commissioning independent science-led aviation experts to examine what this really means to users of our airport, we are now able to detail the environmental and economic choice that aircraft owners, freight forwarders and shippers have, when it comes to airport selection.
"This study makes clear that if you want to play a role in reducing your companies CO2 emissions and operating costs immediately, then RFD offers you a clear opportunity to do just that.
"The study shows that the various actors in the value chain of air cargo have a choice to make in terms of airport selection. They can make the decision between using an airport that offers a more sustainable, less polluting and more cost-efficient solution for air cargo operations, to one that does not."
Other measures that Rockford is taking to improve efficiency include introducing an air cargo community system to help reduce truck dwell times, and offering sustainable aviation fuel.
It said that it is also master planning to facilitate electric vertical take off and landing aircraft.
Handling companies also expect to switch 80% of their ground support equipment to electric power.
Rockford's European and Middle East representative, André Morrall, noted: "Given shippers and forwarders and indeed airlines are looking to lower their C02 emissions, the subject of airport selection is something that we feel should now feature into the discussion and as these findings show, it is possible to reduce emissions of C02 immediately, by choosing more efficient air cargo airports."